ST. STEPHEN'S SCHOOL ROME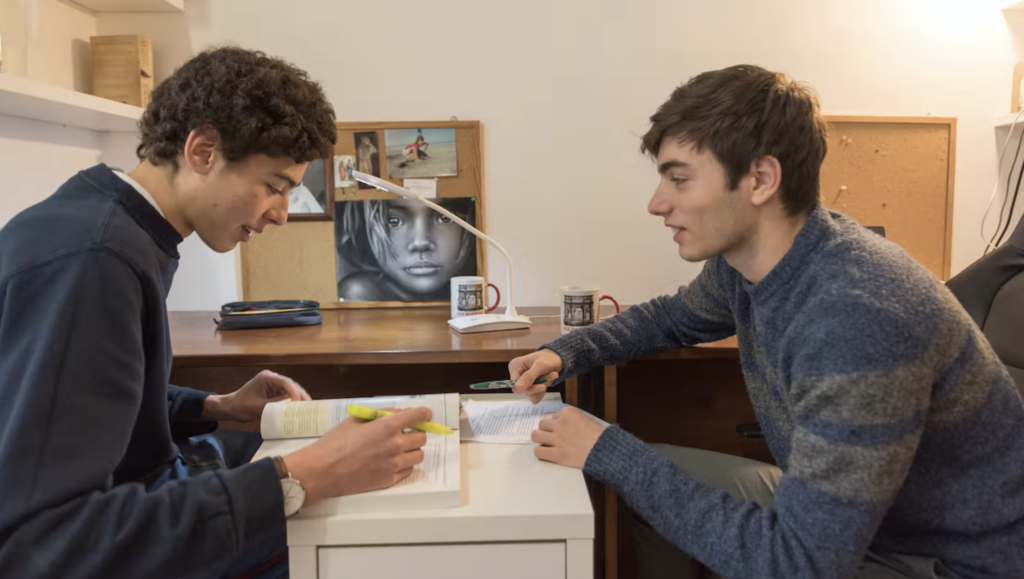 St. Stephen's School is an independent, non-denominational, and co-educational secondary school. Small by design, it enrolls boarding and day students for grades 9 through 12 and, in addition, offers a post-graduate (13th) year. The campus is adjacent to the United Nations Food and Agricultural Organization, diagonally across from the Circus Maximus, and a short walk from the Colosseum and the Roman Forum. St. Stephen's is easily reached by bus, tram, and subway – all of which have stops within a block of the school. Its privileged location in the centre of Rome provides unique cultural, educational, and recreational opportunities for our students; class field trips and on-site lectures throughout the city are regularly scheduled in order to take advantage of the school's advantageous position.
The academic year runs from early September until June and is divided into two semesters. Classes are kept small. Our average class size is 13. The curriculum reflects the philosophy that "there is no substitute for a balanced and comprehensive preparation" in the six major subject areas: English language and literature, history, modern and classical languages, mathematics (courses range from algebra to calculus honors), science, and the arts. Sculpture, studio art, drama, dance, music appreciation, and chorus play an integral part in the curriculum. St. Stephen's also offers a variety of history courses grounded in the classics. The academic program is modeled on American independent school traditions. In 1975, the curriculum was broadened to include the International Baccalaureate (IB). St. Stephen's is proud to have been the first institution in Italy to offer this rigorous program. Students also have the opportunity to prepare for a variety of Advanced Placement subjects. St. Stephen's is accredited by the European Council of International Schools and the New England Association of Schools and Colleges.
Of the 54 faculty members, 90% hold advanced degrees. Ten faculty members reside in the boarding department. At St. Stephen's, we teach young people from approximately 40 different nations and cultural backgrounds. Every student is assigned to a faculty adviser who supervises progress and maintains close contact with the student and their family. Physical education is required yearly; teams compete with other international and Italian schools in soccer, basketball, volleyball, track/cross-country, and yoga. There is also a school psychologist available for student guidance. A college counselor and extensive resources help students with their choice of university and with admissions procedures worldwide. In the past four years, 100% of our graduates have continued their education at four-year colleges and universities. Besides the US, Canada, and the UK, where most of our alumni pursue their studies, graduates are also enrolled or have recently completed their higher education in Italy, Japan, Netherlands, Norway, and Australia – to name only a few.
Central to the School's philosophy is the exploration of Italy's cultural resources through regularly scheduled weekend excursions and activities (organized for boarding students) and two all-school trips (one per semester). Participation in the full extracurricular program is strongly encouraged. Students may choose from various activities, including community service, newspaper, yearbook, literary magazine, recycling, photography, theatre, and the Student Council. The latter works with the faculty and administration to plan social functions and to express student concerns regarding school issues.
St. Stephen's sits on two and one-half acres in the centre of historic Rome. The School, a converted convent and villa, is constructed around a central courtyard in the typical Roman tradition. The newly refurbished lower floor houses three state-of-the-art science laboratories, two brand new art studios, a photo lab, and a dance studio. The two upper stories house the newly renovated boarding residence and faculty apartments, a computer room, classrooms, and the recently renovated Carter Library with its 14,000 volumes, an extensive collection of videos, CD Roms, microfiche, tapes, and English as well as foreign language periodicals. The library resources and internet are available in the classrooms and in the computer room via the school-wide computer network. Offices, a dining hall, a snack bar, and an assembly hall/theatre are located on the ground floor. The campus grounds include gardens, a terrace, and courts for basketball and volleyball.
St. Stephen's seeks highly motivated students interested in a challenging academic program who wish to participate in a multicultural community in Rome and Italy. We admit students on the basis of an admissions test, records from previous schools, and teacher recommendations. An interview with prospective students and parents is suggested. St. Stephen's welcomes campus visits from prospective students and their families. Students interested in the School may, if they wish, spend a day with us in class and have lunch with current students and faculty in order to gain a sense of life at St. Stephen's.