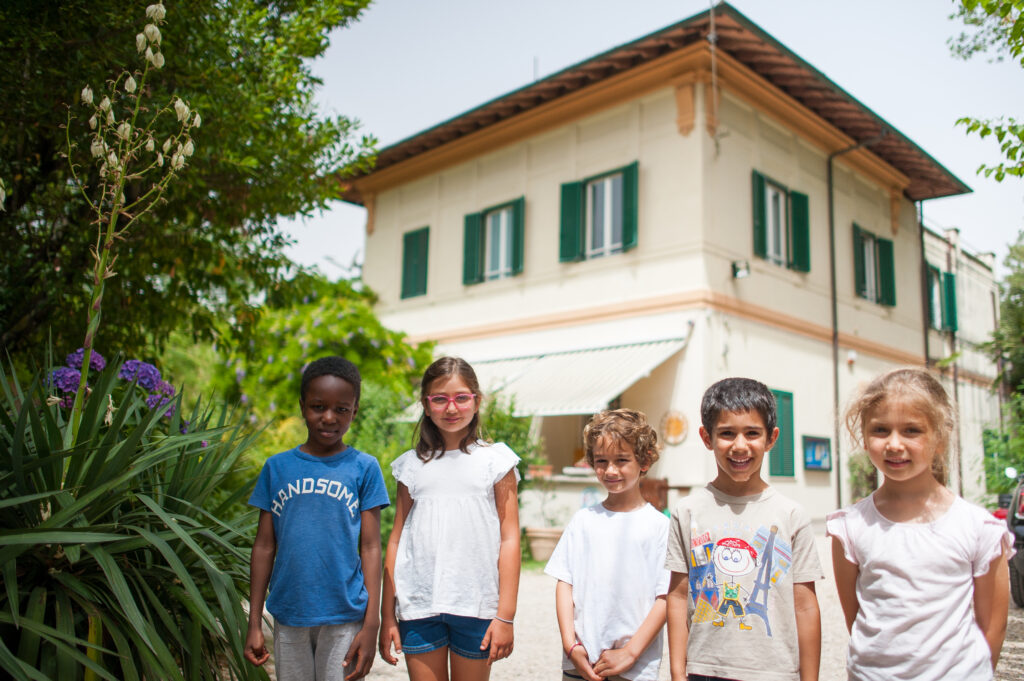 The New Year School Rome is a small international school which was formed 50 years ago by a group of teachers who wanted to address the individual needs of students. We follow the English National Curriculum, from Early Years through to primary and culminating in the Senior School with public exams at (I)GCSE in Year 11.  In Years 12 and 13 (the Sixth Form), students pursue A – Levels considered which are the gold standard of UK education and accepted in universities all over the world. Alongside this we also offer the Cultural and Lingusita element of the Italian Maturita for Italian students.
We are a happy community, who believe that education is a partnership between the students, teachers, and parents. We are privileged to operate in a green oasis in the North of Rome.
A highly qualified and dedicated body of UK trained teachers delivers lessons in small classes. Students enjoy an exceptionally nurturing environment where they feel secure and happy. The New School seeks to stimulate creativity, intellectual curiosity and a sense of social responsibility.
The New School is recognised by the Italian Ministry of Education and is a member of the Council of British Independent Schools (COBIS).
Please feel welcome to visit and sample the magical atmosphere of this unique school, a place where the remarkable really happens. 
The school is a non-profit making Association Shared responsibility has always been a vital part of the structure of the school and children from an early age are encouraged to play an active role in the school community.
Admission to the school is on the basis of interviews (where possible), tests and reports from previous schools. Class size is limited to 17 students. The New School is a non-denominational school and welcomes children from all parts of the world.
The school day begins at 8:45 and ends at 15:30. There are extra-curricular activities such as football, dance and chess after school till 4.30. At lunchtime there are a variety of clubs such as The Duke of Edinburgh International Award, The debating club and a homework club. The academic year runs from early September to late June.
We believe that education reaches far beyond the classroom which is why we have developed a wide range of trips, visits and encourage students to participate in sports and artistic competitions with other International Schools.
Early Years Foundation Stage:
Children are cared for in a stimulating environment. Learning takes place through imaginative play, language games and creative activities, ranging from role play to music making; art and outdoor activities in our extensive garden. Daily routines incorporate structured learning activity times as well as times set aside for individual choice when children are free to explore and experiment.
Primary School:
Children work in vibrant, stimulating classrooms where the emphasis is on individual development. The UK National Curriculum is followed throughout the Primary school and provision is made for children with differing academic needs; EAL; Italian for mother tongue children and second language learners. Excellent resources allow for a wide range of learning experiences and all children participate in Art, Music, Physical Education and Computing. Primary children are encouraged to think independently and take an active role in their own learning.
Middle School and Senior School:
Courses in the Senior School lead to the IGCSE/GCSE and GCE AS and A Level examinations in the UK National Curriculum. PE, Drama, Art and Computing are included in the core curriculum. Pupils in Year 11 sit examinations in 10 subjects. In Year 12 and Year 13 students are taught in tutorial style classes providing excellent preparation for university. The school has a longstanding tradition of examination success at A level and the majority of students leaving The New School go on to attend top universities in the UK including Oxbridge; Imperial College and LSE as well as in the US and in Italy (La Sapienza; Bocconi).
Location:
The school is situated in a beautiful residential area close to the historic centre of Rome. Originally a large family house in a beautiful garden with fruit trees, school buildings have retained their former character, encouraging a strong sense of community.
Facilities:
School facilities include fully equipped classrooms with Interactive Whiteboards; three purpose built laboratories for the sciences; a libraries; a computer room; an art studio; a music room; a multi- purpose sports pitch and a volley ball pitch. The school also uses the extensive facilities of a Sports complex close to the school campus where pupils are coached in Padel tennis; swimming, football; basketball and gymnastics.
230 Students are on roll.