MARYMOUNT INTERNATIONAL SCHOOL ROME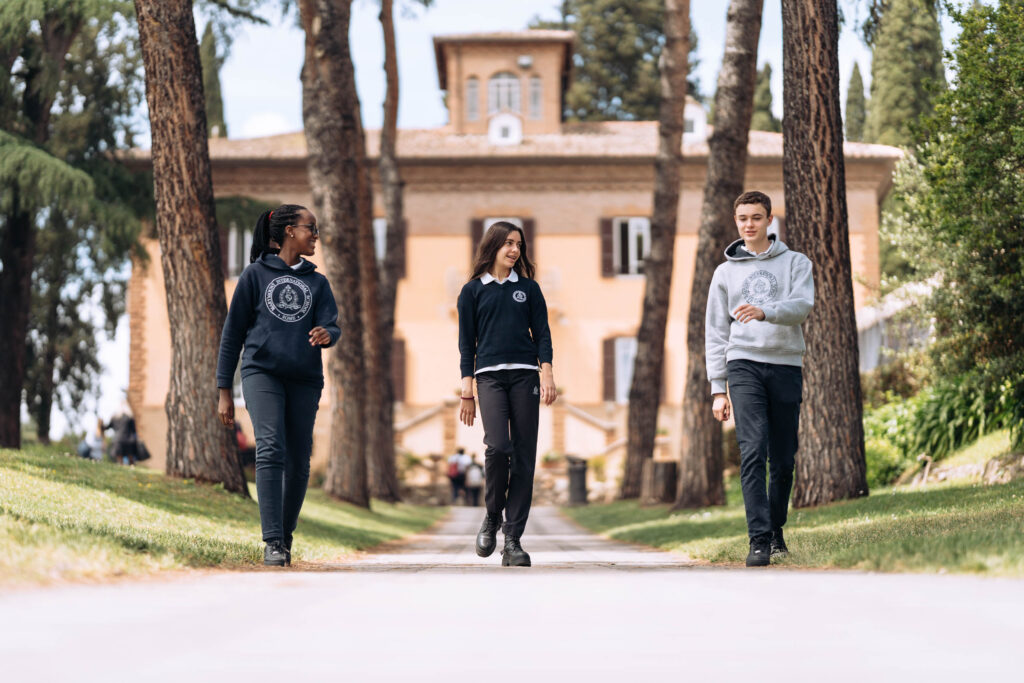 Marymount International School Rome is a private, Catholic co-educational day school offering an English-language curriculum for students in Early Childhood through Grade 12, a U.S. High School Diploma, the International Baccalaureate Diploma Program and AP courses. Founded in 1946 as one of a worldwide system of schools directed by the Religious of the Sacred Heart of Mary. Like the other Marymount International Schools in London, Paris, and New York Marymount Rome has pledged itself to the goal of providing an education based on Christian values as well as the respect for and inclusion of people of all faiths. Today a strong academic spirit flourishes at Marymount enhanced by modern facilities, a dedicated faculty and a beautiful 40-acre campus.
The School
The school is divided into the Early Childhood Center and Elementary School (EC through Grade 5) and the Secondary School, comprised of the Middle School (Grade 6 through Grade 8) and High School (Grade 9 through Grade 12). Located in the exclusive residential area of Vigna Clara, only 8 km (5 mi) north and within easy reach of Rome's city center. The campus resides on 40 acres of protected parkland and features five buildings including the original Villa Lauchli. Facilities include an over 220 sqm building dedicated to the Arts, technology-equipped classrooms, four science laboratories, three spacious libraries with multi-media centers, music studios, an Auditorium, three playgrounds (Early Childhood, Kindergarten, Elementary School), tennis and basketball courts, FIFA-regulation-sized soccer field and calcetto fields, Early Childhood Center Outdoor Classroom and Garden, a fitness lounge, and state-of-the-art dining room, in addition to a health center and the Chapel. Marymount is a completely wireless campus and offers students and teachers the latest educational technology.
The Program of Studies
The Program of Studies is based on the American system of education and the International Baccalaureate program. Classes are small. The school participates in the American testing program, the National Merit Scholarship Qualifying Test and College Board Entrance Examinations including the SAT. Students in the Elementary School study Italian.
French, Spanish, German, Chinese, Arabic and Russian are also offered in the Secondary School, along with Latin, Ancient Greek and other languages on an as-needed basis. Student services include two learning support specialists, English Language Learning teachers, a college counselor, school psychologists and experts in the subjects of computers, art, music, physical education and languages.
ACTIVITIES
A full range of Varsity sports are offered in High School with participation in competitions in the DoDD's league throughout Italy and Europe. Extra-curricular offerings include drama, dance, Student Council, National Honor Society, campus ministries and community service, Model United Nations, newspaper, and Yearbook to mention a few. Elementary and Middle School students may choose from a variety of indoor and outdoor activities in the after-school hours and compete in sports tournaments as well. Private lessons in piano, voice, guitar, violin, percussions, flute and cello are offered. Extensive bus service is available and a nutritious and high quality school lunch is complimentary. The School organizes regular field trips in Rome, around Italy and abroad as valuable enrichment opportunities.
ACCREDITATION
Marymount is accredited by the Council of International Schools (CIS), the Middle States Association of Colleges and Schools (MSA-CESS) and the International Baccalaureate Organization (IBO). The school is approved to offer the American High School Diploma and the International Baccalaureate Diploma (since 1985).