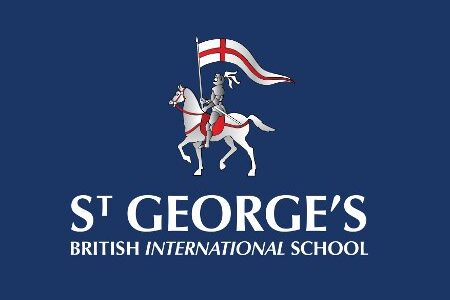 St. George's British International School is a leading British-curriculum school in continental Europe. It is co-educational and offers a broad and strong academic programme. The school, founded in 1958, is owned by a non-profit-making Association and run as a limited company. It has a spacious 14-acre site on the north side of Rome. St. George's is a member of ECIS, COBIS and HMC (the Heads of over 250 of the leading independent schools in the United Kingdom, and the world).
Although the school follows a strong British curriculum and tradition, it is international in many other respects. The pupils represent over 65 nationalities, the majority speaking English as their first language, and a large number would expect to stay at St. George's until the completion of their school years. Average class size is 20 below the Sixth Form and 12 for IB classes. Children are put into 'sets' for subjects such as languages and mathematics, according to their ability in the relevant subject.
Teachers are highly qualified and participate in pastoral care and guidance through a tutorial system, with specialised advice given on university entrance.
Emphasis at St. George's is on academic excellence. The school follows the English National Curriculum from Key stage 1 right through to IGCSE exams at the end of Key stage 4. All Year 13 students take the IB Diploma. Alumni of the school are currently studying at Oxford, Cambridge, London, Bristol, Durham and at other top universities in the UK, and at Yale, MIT, Berkeley, McGill, as well as at Italian universities, like the Bocconi.
The school's learning facilities include fully equipped classrooms, seven science laboratories, two Information Technology rooms, an Art and Design Technology area and a Music Department which includes a sound-proof room. The library has been refurbished and contains the latest electronic research information systems. The work produced by the English Language, Music and Art departments is exceptional and regularly wins prizes. The school's sports facilities include grass football pitches, an astro turf pitch and rugby pitches, a cross-country trail, tennis, basketball and volleyball courts, a large covered multipurpose sports area and a range of 'mini' courts for younger children. The school day is 08.45 to 15.35 with many activities after school (others in the lunch break) and late buses are available. A wide range of out-of-school trips is organised by the school both in Italy and abroad.
There are specialist learning facilities for S.E.N. (Special Education Needs) and E.A.L. (English as an Additional Language). Extra tuition in preparation for Italian State Exams is available at the school.
St. George's is five minutes from the GRA ring road and its eighteen buses, serve all principal residential areas of Rome. La Storta station, on the new metro extension, the fm3, is three minutes' walk from the school. This feeds into both the A and the B metro lines, so rail access is quick and easy from all parts of the city.
Prospective students are screened by means of an interview, reports from previous schools and their knowledge of the English language is assessed. Early application is strongly recommended.